Trending Jewellery Designs for the Gorgeous Indian Bride
Indian women are inclined towards all kind of jewellery pieces which range from simple, traditional jewellery to gaudy necklaces, western inspired jewellery, and tribal jewellery as well. Wearing the right jewellery can make you look gorgeous and add a chic look to your attire. While, adorning heavy jewellery can make you appear like "Bappi Lahiri's twin sister" with all that bling. If your wedding date is around the corner, then you must have a look at these trending jewellery pieces that you can adorn on your Big Day.
Choker necklaces are in fashion and pairing them with big earrings and a sober nath will make any bride shine.
If you are a fan of contemporary jewellery pieces then you should try out these designs which are a perfect ensemble for the modern Indian brides.
Mangtika and nath add a glittering effect on a woman's face which makes her even more beautiful.
Rani haar, kamar bands, big rings are being appreciated by the brides as it brings out their beauty.
Red is an auspicious colour for the Indian brides and they like to adorn it with pride. If you are also a big fan of red colour then you can blend it with a tint of gold or silver in your jewellery pieces.
The brides can easily pick the choker necklaces which are available in different designs in the market to suit every face type.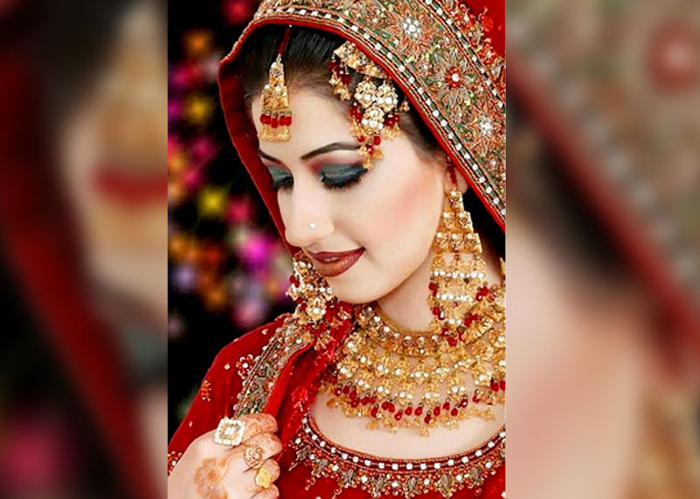 Source
Heavy jewellery pieces are also being adorned by the Indian bride and is currently in fashion.
Head gears with hand cuffs and rani haar look perfect on Indian women. If you are looking for something different then you must try this look.
You must never forget to take care of your feet, hands and hairs as they also attract the attention. Choose glittering anklets, rings and hair accessories tom complete your bridal look.