15 Things that every Pahadi Loves from the Bottom of their Heart
Having an indestructible bond with the colossal hills, we Pahadis find happiness in the small things that bring joy to our heart and the fond memories of the life spent in the hills, under the motherly shade of the Himalayas are still close to our heart. So if you are a Pahadi then do check out these 15 things that every Pahadi love from the bottom of their heart.
1. Being in the lap of nature
Pahadis are free spirited people who share a close-knit with nature and no matter in which part of the world they are, nothing can stop them from making fond memories in the lap of nature.
2. Having a tiny wooden house in the hills
While others dream of owing a lavish bungalow and a posh car, Pahadis being attached to their roots dream about having a tiny wooden house in the hills, from where they can relish the most tempting views of nature while sipping a hot cup of tea on a cold winter morning.
3. Unlimited supply of mouth-watering Pahadi sweets like Bal Mithai, Singori and Arsa
Pahadi delicacies are such that once you have it, you become addicted to it. I remember as a Pahadi kid, how we used to daydream about having an unlimited supply of Bal Mithai, Singori, Arsa and other delicious Pahadi sweets.
4. Singing and dancing on Pahadi songs
Being happy go lucky by nature, Pahadis love singing and dancing to the tunes of the mellifluous Pahadi songs. And the best time to showcase their talent is during the lively Pahadi weddings.
5. Wearing the lovely Pichhora and Nathuli in weddings
If you are a Pahadi girl then you must have imagined how gorgeous you'll look on your wedding day adorning the elegant Nathuli with your lovely Pichhora. Even the thought of seeing yourself dressed as a traditional Pahadi bride makes you blush at once.
6. Conversing in Pahadi dialect with our loved ones
Conversing in regional dialect with your loved ones is a heart warming feeling that many Pahadis living in the cities are deprived of, as there are hardly any families left who converse in their regional dialect. But once there is a get-together, the room is filled with laughter and giggles of people conversing in their regional language with their loved ones.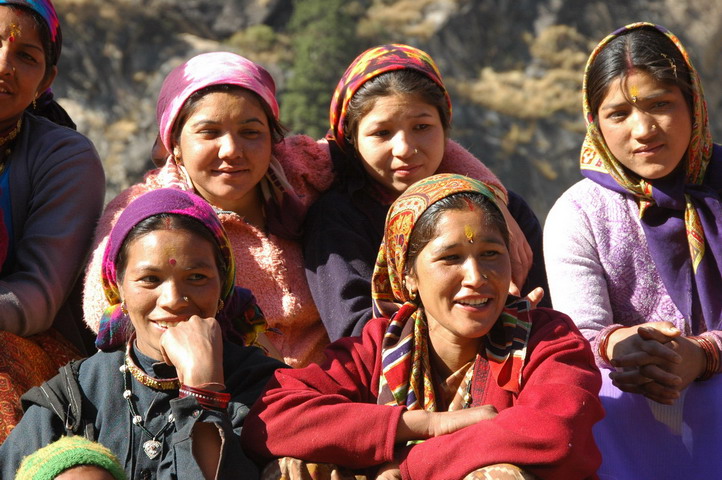 Src
7. Revisiting our grandparents village and bringing back memories
As a child, the most adventurous trip that any Pahadi kid could recall would be the time they visited their maternal or paternal village. Running errands, climbing the trees, plucking fruits, swimming in the river and exploring the jungles it was everything that a kid was told not to do, but you had all the good reasons to do it since you were in your village.
8. Listening to the popular folklore and ghost stories of our village
As a child and while growing up, Pahadis don't change much, they still enjoy listening to the popular folklore associated with their village and the ghost stories that could cause a shiver down their spine.
9. Receiving the news that now our village is connected to roads
All Pahadis know how our near and dear ones have struggled to meet their needs as getting LPG, reaching to the hospitals and meeting their daughters was a dream unattained due to the unavailability of roads. So whenever we hear that a village is now connected to roads, it brings a big smile on our face.
10. Playing cricket on the terraced fields
There is not a single Pahadi who don't miss playing cricket in the hills as it was something beyond imagination. How players used to stand on different steps of the terraced fields for wicket keeping and still they would miss the catch as they could barely see what's happening on the ground.
11. Camping/Trekking on the hills and gazing at the majestic peaks of Uttarakhand
Camping and trekking are two things that every Pahadi loves doing as it makes them connect with the benevolent hills of Uttarakhand. Once in a while, Pahadis like to take a break from the city life so they can camp under the shade of the Himalayas and feast their eyes on the captivating natural beauty around.
12. Having a hot cup of tea with aloo daal pakodi and watching the snowfall from the window sill of our village home
For Pahadis, pure Monsoon bliss is having a hot cup of tea with aloo daal pakodi and watching the snowfall from the tiny room of our village house. It's nostalgia, isn't it?
13. Swimming in the gadhera and drinking fresh water from pani ka kunther
While others love having a splish-splash in the swimming pools, we being wild love to swim in the gadhera be it any season. Also drinking fresh water on a hot summer day quenches our thirst at once.
14. Eating freshly cooked Chainsoo and Phaanu from mother's hand
Even the most exotic dish of the world can't tempt us but the freshly cooked Pahadi cuisines such as Chainsoo, Phaanu, Gahat ke Parathe, Jhangore ki kheer can. Didn't your mouth water on hearing these names?
15. Celebrating regional festivals such as Harela, Ghughuti and Phool Dei that reminds us of our childhood spent in the hills
We all have fond memories of celebrating the regional festivals of Uttarakhand like Harela, Ghughuti, Phool Dei etc. which we can't forget as they remind us of our childhood spent in the hills.