11. The desi D.J. who plays the iconic Punjabi Brazil song makes everybody go crazy.
12. One of the guests turns into a snake and do the nagin dance on the makeshift "DJ Floor" having fancy rainbow lights.
13. There is also a famous car-o-bar having free flowing alcohol.
14. The ravishing clothes worn by the ladies can even make the Bollywood divas envious of their amazing style statement.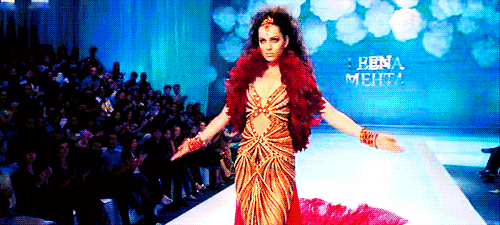 Src
15. The best part is when you succumb yourself in the tiny rooms and sleep on the floor. And when you wake up you become friends with all the people sleeping in the same room.
16. Our late night talk sessions with our cousins are more sizzling than Koffee with Karan and the drinking sessions can even put the IPL parties to shame.
17. And the heavy gold jewellery worn by the aunties can make Bappi Da feel a bit complex.
18. Amidst this chaos, a lot of stuff gets missing and everybody is searching for bobby pins, safety pins, makeup, puja ki thali, shagun ke lifafe, and what not!
19. The epic moment when your parents introduce you to people you never knew were your close relatives.
20. Then there's Namaste and pairi ponas that make our back sore by the end of the night.
21. You get one or two rishtas that night as uncle aunties are always hunting for a suitable groom or bride for their children.
22. And no Indian wedding can be complete without our favourite chief guest "Pandit Ji".
23. Finally, it's time for the bidai of the bride. And the melodrama starts with heavy sobs and whining. Even the detective aunty that lives next door shed crocodile tears. So if you don't cry in this situation then you are one stone hearted person.